Your Microbiome Will Love This BLD Hash!
We're thrilled to introduce Karen McFarland as a contributor to Conscious Medicine!  Karen is passionate about nutrition, cooking, gardening, and health.  You can learn more about her and her work here.  Karen will be offering recipes and tips in support of your microbiome.  I have a lot to learn (I had to look up "bladderwrack" myself — it's a seaweed!).  We're excited to have her join the Conscious Medicine family!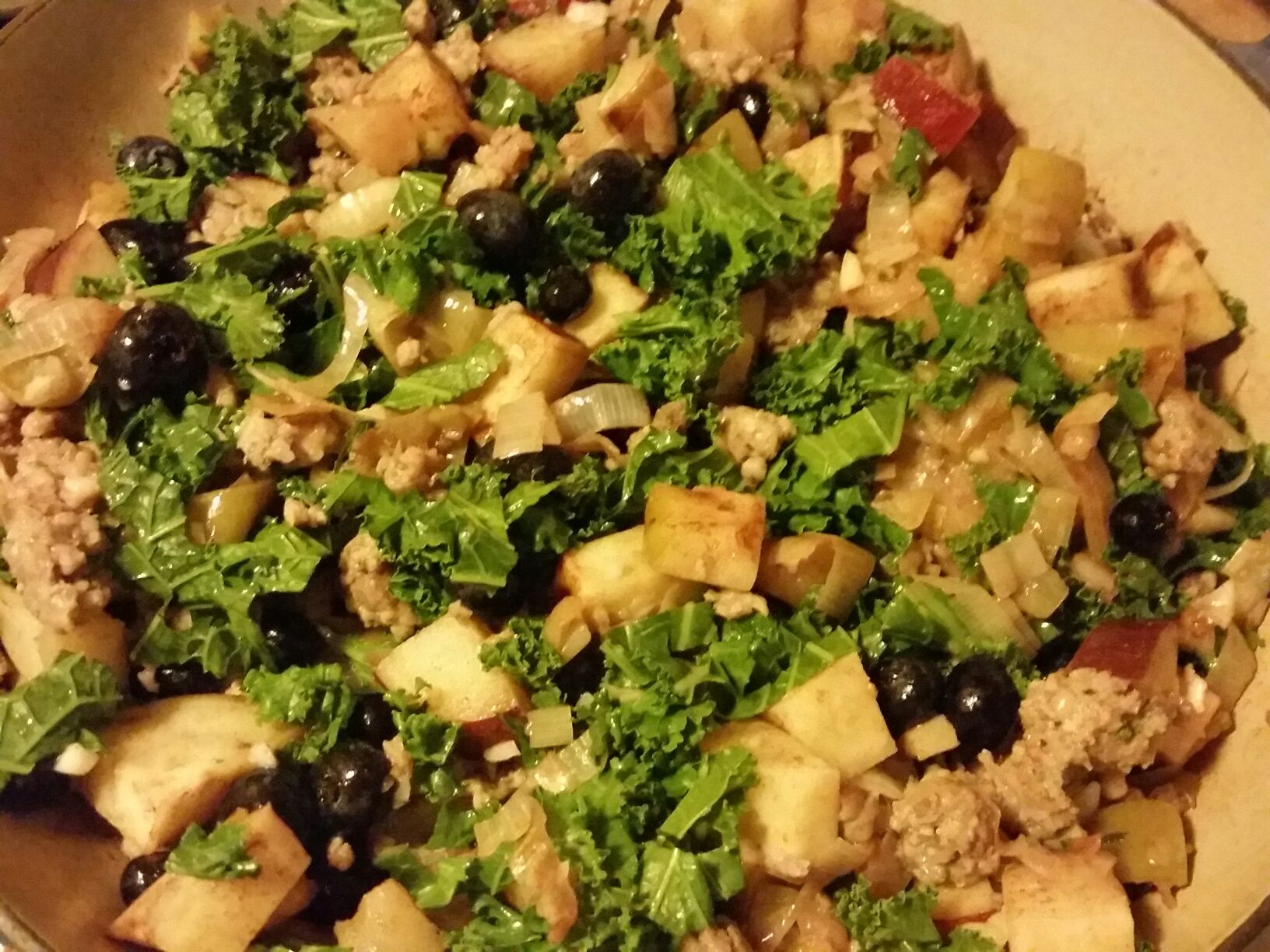 This hash is titled BLD Hash because it is suitable for Breakfast, Lunch or Dinner.  It freezes and travels quite well so is excellent when you encounter a challenging or appointment filled day and want to honor your goal of eating nutrient dense and diverse foods.  It's extremely versatile as you can substitute any of the allium family for the yellow onion (leeks or shallots), use any variety of sweet potato, any sausage flavor or variety (link or ground), and any genre of greens…in fact, mustard greens in place of the kale will make a nice contrasting flavor addition to this foundational recipe.  Another way to level up the nutrient density on this one is to add some kelp or bladderwrack flakes and a sprinkle or two of dried orange or lemon peel.
Be bold, mix and match as you like, and have fun with this.   Commit to trying this one by week's end and let us know how you like it and any creative tweaks you make or plan to make in the future!
In the interest of your diverse microbiome…
Karen McFarland, NTP, FNLP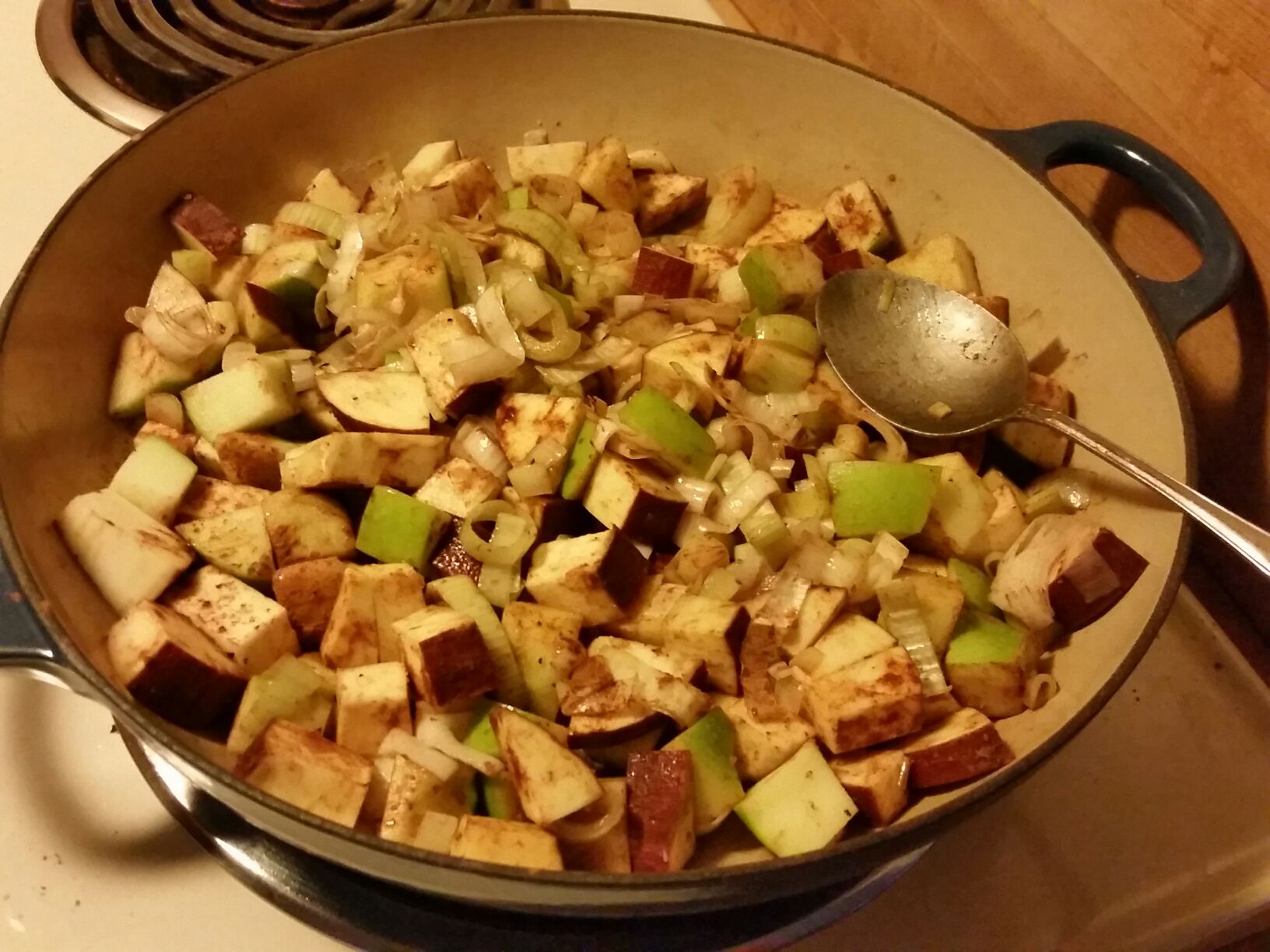 BLD Hash
Non-hydrogenated lard (preferably from a local producer), bacon fat, butter, ghee, or coconut oil (depending on tolerance and preference)
1 small yellow onion, chopped
1 medium sweet potato  (with either the light or deep purple red colored flesh);  cut into bite size cubes
1 Granny Smith or Braeburn apple; cut into bite sized cubes
3 cloves garlic, minced
Cooked sausage of choice (country style chicken sausage is excellent as are sausage links of your choice), optional
2 large leaves of kale; stem removed and cut or torn into bites size pieces
Sea salt
Cinnamon
Before serving you may optionally add and drizzle:
Crispy pecans or walnuts (previously soaked and dehydrated)
Local honey or maple syrup
On medium heat sauté onion in fat of your choosing.  After about 5 minutes add cubed sweet potato and sauté a few minutes longer then add cubed apple.  Sprinkle with sea salt and cinnamon and cover with a lid and let simmer 10 minutes or so.  Remove lid and add cooked sausage of choice.  Replace lid and top mixture with minced garlic and kale.  Let sit for 10 minutes or so and serve with crispy nuts and then drizzled with maple syrup.
Tips:
This dish is most flavorful when prepared in a heavy enamel coated pan such as Le Creuset or a cast iron skillet with a tight fitting lid.  Times may need to be adjusted slightly if cooking in stainless steel.
To mix things up you may use spring onions or leeks in place of yellow onion;  any of the winter squashes in place of the sweet potato;  cabbage, collards or cooked brussels may be used in place of the kale.
At the end of cooking toss in fresh or wild, in season, berries.
Enjoy!  And comment below…